Charities & Community Events
Your Teamsters organization does more than just represent you; it is also a key part of communities wherever members live, work and organize. Find out what we're doing in your area.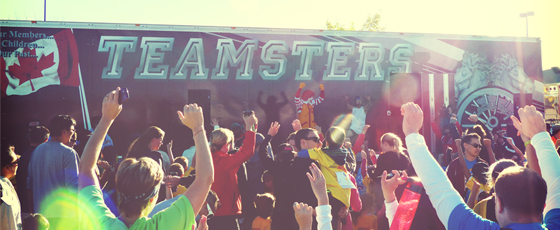 "With the generous support of people like you, we will be able to help fund our mandate of building a bridge between military and civilian communities."

– Michael Hornburg Founder/Coordinator Loops for the Troops
We believe in strengthening community. We donate time, resources, and energy to support the networks and charities that concern our union members. With a full line-up of fun-filled events, we hope you'll come out and join us as we help raise funds for some great causes.
Teamsters Truck For Charity Events
The Teamsters Local 362 Truck has an 8ft by 20ft stage and comes equipped with a PA system, CD player and its own power. Our Truck is available for charity events at no cost. In return we ask that Teamsters Local 362 be recognized as a sponsor of the event.
If you are interested in having our Truck at your charitable event, please contact us at the Teamsters Calgary office.
Charities we have Supported:
Alzheimer Society
Andy Allan Golf Tournament
Big Brothers Big Sister Calgary and Area
Brianne's LEAP of Hope
Calgary Drug Treatment Court Society
Calgary Health Trust
Christmas Bureau of Edmonton
CIBC Run for the Cure
CUPS Annual Wreath Campaign
Interfaith Food Bank Society of Lethbridge
JDRF
John Howard Society (Calgary)
Kids of Promise
Medicine Hat Food Bank
Mothers Against Drunk Driving
Nifty Fifty's Ford Club of Calgary
Peerless Lake School
Renfrew Educational Services
Rock the House Run
Seniors Out Reach Network
Stampede Marathon
Teamster Disaster Relief Fund
Teamsters Local 213 Charity Golf Tournament
The Calgary Foundation
The Mustard Seed Foundation
The Royal Alberta United Services Institute Foundation
The Royal Canadian Legion
United Way
Victory Baptist Church
Wood Buffalo Food Bank Association
Wood's Homes Foundation
Workplace Mental Health Association